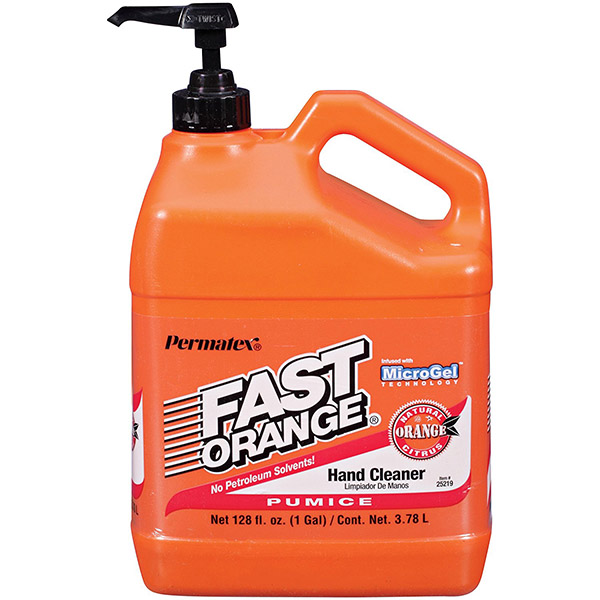 Hand Cleaner
(2)
$

19.99

Pure, fresh-smelling, natural citrus power cleans deep down to remove even the most stubborn grease and grime
Fortified with aloe, lanolin, glycerin and other skin conditioners
Biodegradable, waterless formula contains no harsh chemicals, mineral oils or ammonia that can sting cuts and abrasions
Also works great on laundry stains, pet odors, and many other household cleaning needs
Suggested Applications: Resins, oil, grease, tar, grime, soil, printers' ink, epoxies, paint, rubber cement, gasket and tile cements

$

21.45

HandKind Scrub is a unique biodegradable hand cleaner with extraordinary cleaning and conditioning power. By using new technologies in biodegradable materials, HandKind Scrub outperforms all other hand cleaners with added benefits that other cleaners just don't offer. Removes dirt, oil, grease (even automotive), polishing compounds, and more. The abrasive scrubbers in HandKind Scrub are made from ground and screened walnut shells. Completely biodegradable and water system safe. It cleans with incredible completeness. Even toxic heavy metals like lead, chromium, and mercury are removed from the skin with non-toxic chelating agents. Handkind uses a unique blend of intense humectant skin treatments that actually promote the skins own moisturizing properties and helps restore the skins natural chemical balance. Very dry cracked skin is quickly relieved by simply washing daily with HandKind Scrub. You'll feel the difference after the very first use.